About Us
Cleen Trax Commercial Carpet & Tile Cleaning is locally owned and operated out of Verona, WI. We have been in business since 1984, and have a wealth of knowledge and professional expertise to bring to the table. In fact, we clean over 4.5 million square feet of commercial carpet per year! At the same time, we provide outstanding personal service at very reasonable prices. We may not be the cheapest company out there, but we certainly are the most thorough. In fact, we 100% guarantee your satisfaction. We stand behind our work. Our cleaning methods are the safest, most thorough, and best long term solutions for your floor care needs. You will be amazed with the results we can provide.
We only use CRI approved products that are environmentally conscious, that contain no harsh abrasives, no optical brighteners, and a pH balance that is close to neutral so it's safe for your carpets and the people who walk on them. We continually seek and use the most effective Green products on the market today. We don't use truck mounts that drain our natural resources, or large extractors that will use tens of gallons of water to clean. We use CRI certified Green products that are safe for our environment.
For more information about our services, check out our Carpet Cleaning page, as well as our Tile and Grout page. We would love to be able to come out and show you how clean we can get your carpets. For a free demonstration of our carpet cleaning method, either call us, or visit the Contact Us page to request a no obligations demo and estimate. Thanks for your time and interest in Cleen Trax, we hope to hear from you soon!
CERTIFICATIONS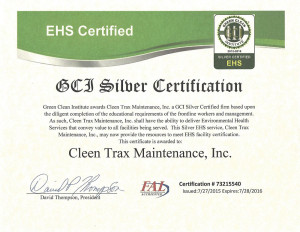 EHS certification from the Green Cleaning Institute